Just yesterday, Andy Murray became the first British winner of a Grand Slam in the open era; a very fine achievement in itself. But not only that, he did it in an epic five-setter against Novak Djokovic who has reached the finals in New York four times.
The matched lasted a massive four hours and fifty-four minutes and it had an incredible amount of ups and downs. Although the match has been hailed as one of the greatest Slam finals of all time, the quality of the tennis was not very high for the first four sets at all - the fifth was probably the set of highest standard. Some of this can be put down to the very tricky conditions throughout the whole match; the wind was treacherous. This led to
a lot
of errors from both men.
Having said this, the first set tiebreak was very entertaining. They both played nervously and were not aggressive, this made for a lot of long rallies. But what won Murray that breaker was his guts towards the end of it. Murray took the initiative in the last three or four points and took the attack to Djokovic. It paid off. Murray stormed to a massive 4-0 lead in the second and looked as if he was going to run away with it, playing very good aggressive stuff. But he took his foot off the gas and started to contain. Djokovic on the other hand worked himself into some good form and cut out his errors and went on a very good spell. But it was not to be, Murray gutsily took the set into his own hands and squeezed it 7-5.
Never ever count the Serb out. Now that Murray was very much in the ascendancy, he once again started to contain - the nerves must have been getting to him. You can't afford to do that against Novak. His mental reaction was awesome and he ate Murray up, levelling it up at two sets all. Both players went off for a toilet break.
The fifth set, crunch time. The momentum was fully with Djokovic but Murray broke him in the opening game and eventually went on to win it 6-2, as I'm sure you know. This set they were both aggressive, which made for a nice change.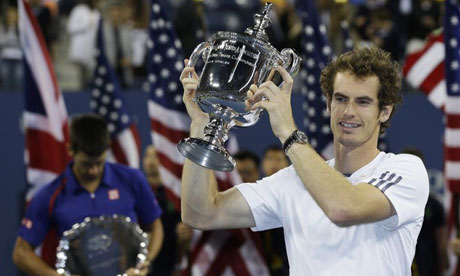 A Very Impressive Murray
What the most impressive thing about this match was the mental responses of both men; when Djokovic went two sets down, and Murray's response when he squandered a two set lead. He came out playing incredibly courageous stuff in the fifth and served a dream. This is something I'm sure that Lendl has helped him out with. The Murray of last year would not have won that set in those circumstances, but Lendl has given him strength of character.
Cometh the hour, cometh the man.
And damn, did Murray come. His mental response at the start of the fifth was the KEY to his victory.
A slam for Murray had been a long time coming, but it was always going to come - even if it had not happened this year. Although players like Del Potro and Berdych have all the credentials to win Slams, Murray is on another level - he's a very complete player and way too good to never win a Slam. I'm sure he'll win a few more.